Imagine this. You suddenly have a person come to you and hand you a small box that fits in your palm and your pocket. It has a mirrored glass-like surface on one side. The person then tells you, "Use this, and now you can talk to whoever you want, whenever you want, and most importantly, wherever you want." Before you can ask any question, that person is gone, and you're left standing with this box.
It makes no sense, right?
That is how users feel when they visit your website or download your mobile application. The fact that they visited or downloaded your product proves they believe in your potential. But leaving them hanging with the small box is neither fair to them nor your product.
A survey conducted by Wyzowl found that over 80% of users deleted an application because they didn't know how to use it.
User onboarding is a fine art, and a major part of user onboarding is to guide your users on what your product does and how it does it. Guiding users whenever they use the product for the first time is really important because it lets you put your value in front of the users in the best way possible.
This is where interactive product walkthroughs come in.
What are Interactive Walkthroughs?
Product walkthroughs meet users at the start of their journey. These interactive walkthroughs help users unearth hidden product features and help them reach the "aha moment" faster. They help foster good usage habits in users, leading to increased engagement and higher retention.
Interactive walkthroughs are on-screen tutorials that use tools like contextual tooltips, in-app guidance, etc., that educate users on how to use a new product, feature, or update. They are integrated into the platform to aid users in every step of their journey.
For example, an eCommerce app has interactive walkthroughs that help users in their account creation, product search, and final check-out process.
Adding interactive walkthroughs increase time-to-value and offer users a more personalized experience.
An excellent interactive walkthrough strikes a good balance between handholding and user engagement. A well-designed interactive walkthrough is:
Clear – Inform users exactly how each feature works
Engaging – Provide users an option to interact and not just watch
Concise – Not too long and repetitive
Skippable – To accommodate faster learners or users who've previously used similar products
Benefits of Interactive Walkthroughs
Here are some of the most popular advantages of using an interactive walkthrough:
1. Speedy Adoption
Without a proper product walkthrough, users are left to either figure things out on their own or have to ask others for help. Providing an interactive product walkthrough allows users to better understand your product and its features, which translates to speedy and boosted product and feature adoption.
2. Personalized Onboarding
Walkthroughs could be customized according to the user segment, behavior category, and demographic. Tailored walkthroughs offer a personalized experience to users and keep them motivated to use the product actively.
3. Increased User Engagement
Using a walkthrough helps users realize the key value proposition of your product faster and encourages them to become regular users of the app or website. This boosts user engagement and loyalty.
4. Improved User Retention
When a user sees that your brand and product are working hard to make the process simpler and easier for you, they realize that customers matter to the platform. This results in increased trust and improved user retention.
Examples of the Best Interactive Walkthroughs
Example 1: Salesflare's Product Walkthrough
Salesflare, a CRM enterprise software, automates the work required to keep your contacts updated. It begins by offering its users the choice to take the product walkthrough or skip it based on their requirements.
The choice works well for users already accustomed to the platform and reduces the risk of losing them. Next, the walkthrough introduces some key components of Salesflare.
Users learn by doing, and the walkthrough encourages people to try the platform themselves, highlighting its ease of use and simplicity.
Salesflare's interactive walkthrough strikes the right balance between handholding users and user engagement.
Example 2: Asana's New User Onboarding
Asana, a project management tool, helps teams manage, track, and organize their work. Asana boasts of a clear, easy-to-use interface and highlights this through its succinct, action-driven onboarding process. It walks users through creating their first task on the platform – a clear "aha moment" for them.
The walkthrough encourages users to create a new task for themselves, along with all its details.
At the end of the walkthrough, there is a tooltip highlighting where users can find help and resources in the future.
The walkthrough is subtle and effective, drawing users' attention to Asana's UI. The interactive walkthrough teaches users, and the action-driven approach assists them through the initial setup.
Example 3: Gamified Walkthrough of Trello
Trello, a task-management platform, uses Gamification with its product walkthrough to aid users in feature discovery and product adoption. Trello faced the problem that there were many segments of user bases that it had to onboard. It highlighted its versatility by asking users to create a board for any task.
Next, it demonstrates how many Trello boards can be organized into lists and lists into cards and asks users to create some, too, thus boosting feature adoption.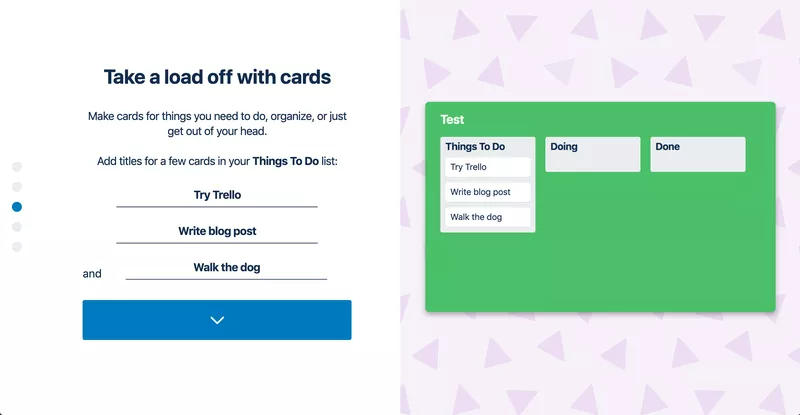 At the end of the interactive walkthrough, users know all the different offerings of Trello, and they understand how the product works.
Conclusion
Interactive guides and walkthroughs are incredibly powerful when it comes to onboarding and activating users. Just remember to deliver an interactive walkthrough and not a product tour. The walkthrough must lead up to the "aha moment." And the emphasis should always be on learning by doing.
A walkthrough is necessary to make users realize the true value of your product and all its features so that they can realize that the box they're left holding is actually a mobile phone.
With Upshot.ai's interactive tutorials and walkthroughs, you can educate users about particular elements and features of your app to drive feature adoption.
The Upshot.ai Advantage
Upshot.ai is an omnichannel, user engagement, and gamification platform that helps digital product owners and marketers improve product adoption and conversions.
With Upshot.ai, banks, Insurance, and FinTech firms can enhance their digital experiences with pre-built gamification features. It can provide personalized insights, actionable recommendations, and contextual nudges designed to deepen its relationship with its users.
Book a demo of the most comprehensive user engagement and gamification platform to achieve your digital product goals. Join our communities for more insights, guides, and best practices that keep you updated with proven strategies and tips to supercharge your campaigns.
Follow @upshot_ai